We will always remember ... Doctor Sprinkle
from the December 2021 Star Beacon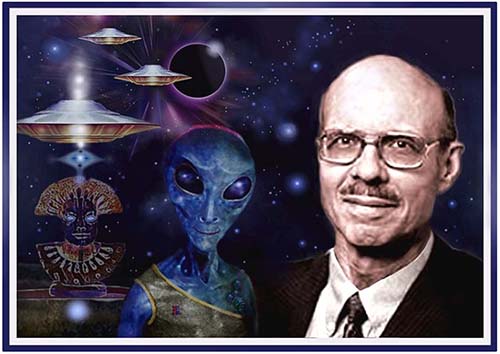 The UFO community has lost one of its most cherished pioneers. Here is the obituary of this great man. May he rest in peace.

R. Leo Sprinkle

passed away peacefully "In Love & Light" on November 15, 2021, in Laramie, Wyo. Born on August 31, 1930, in Rocky Ford, Colo., he attended CU in Boulder and earned a B.A. in Psychology, Education, Sociology and History in 1952. He married Marilyn J. Nelson in Boulder, Colo., on June 7, 1952. He served in the US Army in Germany from 1952-1954, where he was Honor Student No. 1, Class No. A-5324, 7th Army NCO Academy. He served as corporal in the 194th F.A.B. in Wertheim.

Leo earned a M.P.S. in Counseling from CU in 1956, and a Ph.D in Counseling and Guidance from the University of Missouri in 1961. The University of North Dakota hired him as Assistant Professor of Psychology and Director of the Counseling Center from 1961 to 1964. He became a licensed psychologist in 1966.

The University of Wyoming's Counseling and Testing Center employed him as Counseling Psychologist and Associate Professor of Psychology from 1964-1989, where he eventually became Director there as well. He and Marilyn made Laramie their home and raised four children. Red Feather Lakes, Colo., was always a special place for the family.

After retiring from UW, Leo continued working in private practice. He taught self-hypnosis techniques in classes and through his self-help videotape, Trance Forming Yourself. He studied reincarnation and past life regression, and published a book, Soul Samples, in 1999. A UFO researcher of international fame, he published over 50 articles, wrote forewords for other researchers' books, and was interviewed on national TV programs, including ABC's That's Incredible and NBC's Tomorrow Show. He was instrumental in the success of the UFO Conferences held in Laramie for more than 20 years.

People suffering everything from test anxiety to suicidal behavior sought his counsel, and his most ardent supporters were those who knew him personally. A mix of intellectualism, spirituality and humor defined his style, and it was authenticated by his personal integrity and limitless energy. He was an excellent yodeler and a prolific writer of clever limericks. In his 80s he dominated Wyoming Senior Olympics in swimming, track, and basketball. He was a beloved son, brother, husband, father, uncle, grandfather, mentor, and guru.

He was preceded in death by his parents, two brothers, and two grandsons. He is survived by his sister, Faye of Harper, Kan.; his wife, Marilyn of Laramie, Wyo.; sons Nelson (& Jill) of Loveland, Colo.; Eric of Aurora, Colo.; Matt (& Rosalie) of Laramie, Wyo.; daughter Kristen of Laramie, Wyo.; and six grandchildren.

Details will be announced later for a public memorial service to be held in Laramie, Wyo., in the summer of 2022.

EDITOR'S NOTE: Dr. Sprinkle was one of the kindest and most enthusiastic people I've met in the UFO community. I was fortunate to be able to attend a few of the Rocky Mountain UFO conferences that he directed, with such memorable speakers and attendees. I met many like-minded people whom I've kept in touch with over the years through him. He was a pioneer, for sure, and it was an honor to be invited to his home at the end of the last conference my husband Ethan and I attended in the mid '90s.

Leo was very supportive of The Star Beacon and was instrumental in generously giving me his mailing list in 1987 so that I could introduce people interested in UFOs to The Star Beacon, which had just published its first issue that April.
The Angels (and ETs) must be rejoicing right now and laughing a little at Leo's wonderful sense of humor. We will miss you, Leo. Love and Light!
This page updated December 6, 2021
BACK TO WHAT'S NEW
GO TO EARTH STAR'S HOME PAGE
STAR BEACON
SUBJECT INDEX
2013 2012 2011
2010 2009 2008
2007 2006 2005
2004 2003 2002
2001 2000 1999
1998 1997 1996
1995 1994 1993
1992 1991 1990
1989 1988

CLICK HERE to receive FREE bimonthly enewsletter

Earth Star Books
Browse our Book Catalog to view all our books and publications.
Publishing Professional
Earth Star offers editing and production services for self-publishing authors, plus a lot more. You may inquire by contacting us at starbeacon@gmail.com
See all we offer in the way of publishing services. Check it out...
Psychic Readers Page
Our free directory lists intuitives ready to assist you.. View Psychics Page...