Cosmic Book Reviews
from the December 2021 Star Beacon
The Dream Chasers, a novel of romantic suspense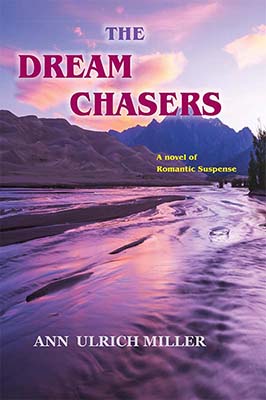 The Dream Chasers
by Ann Ulrich Miller
November 2018
ISBN 978-0-944851-56-2
Earth Star Publications
Paperback, 326 pages, $15.00
Kindle ebook $5.99

Review by Chrystle clae
B.J. Martin has been overlooked for the promotion she sought and deserved at the Dexter Chronicle. The house she thought unsellable at her price has a surprisingly solid offer.
Nothing is holding her back from her dream of beginning her own "shopper" paper in a new location in Colorado.
The reader is quickly immersed in the myriad of preparations involving this fresh beginning. B.J. dives into the excitement of securing her venture of a new business location, finances and living arrangement, along with hiring a new staff for the various tasks.
Encouraged by the birth of The Buffalo Billboard is an intriguing experience. The most satisfying hire is B.J.'s son Jason, who is a source of promise and pride for both of them.
Romance is interwoven for each of them with a surprising connection.
All of the busy activities of this ground-floor business is time consuming, but B.J.'s subconscious keeps even her sleep time busy with uncomfortable nightmares regarding her deceased sister "Liz," who seems to be taunting her about unknown activities surrounding her death.
A once dating relationship with Merle is now a great source of supportive friendship and a shoulder to lean on as many of her activities seem daunting.
A questionable romantic relationship may be beginning with her one and only competitor!
The rich characters and unexpected complications pique the reader's interest and satisfaction to the very end.
The Dream Chasers is another page turner from the enticing pen of Ann Ulrich Miller, who continues to be one of my favorite authors.
Chrystle Clae writes from Largo, Florida
---
BACK TO WHAT'S NEW
GO TO EARTH STAR'S HOME PAGE
This page updated December 7, 2021
STAR BEACON
SUBJECT INDEX
2013 2012 2011
2010 2009 2008
2007 2006 2005
2004 2003 2002
2001 2000 1999
1998 1997 1996
1995 1994 1993
1992 1991 1990
1989 1988
Back issues available for $2.00

CLICK HERE to receive FREE bimonthly enewsletter

Earth Star Books
Browse our Book Catalog to view all our books and publications.
Publishing Professional
Earth Star offers editing and production services for self-publishing authors, plus a lot more. You may inquire by contacting us at starbeacon@gmail.com
See all we offer in the way of publishing services. Check it out...
Psychic Readers Page
Our free directory lists intuitives ready to assist you... View Psychics Page...