Cosmic Book Reviews
from the December 2021 Star Beacon
Star Beacon writer's book reviewed 4 stars out of 5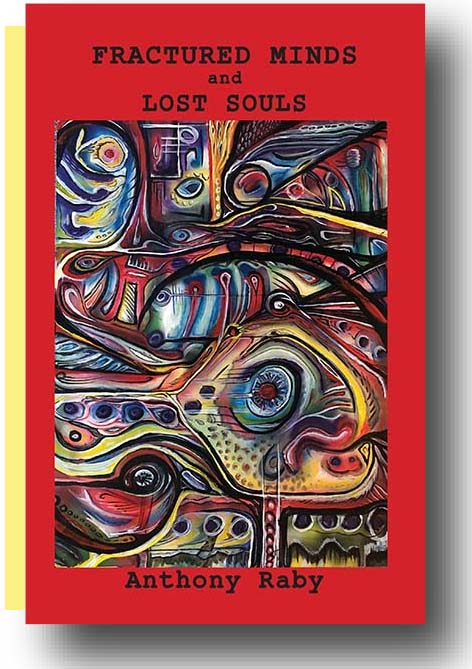 Fractured Minds and Lost Souls
by Anthony Raby
January 2018
ISBN 978-0-944851-52-4
Earth Star Publications
168 pages, Paperback, $15.00
Kindle ebook $5.99

Review by Josh Kruger
INMATE SHOPPER
Annual Issue 2018-2019
Most of you know my story, but for those who don't, here is a quick nugget: the first piece I got published was a poem in the prison anthology Cellblock Poetry (Shot Caller Press). Yet these days I hardly ever read poetry or fiction. My time is spent on researching and writing my next how-to info-product. But I'm always open to reading and reviewing another writer's book. "A rising tide floats all boats."
Anthony Raby is incarcerated in the U.S. Disciplinary Barracks. He spends his time writing and pursuing an English degree through Adams State University (ed: Alamosa, Colorado). He is also a contributing writer for The Star Beacon and Inmate Shopper. His first book, Fractured Minds and Lost Souls (Earth Star Publications, 2018), is a compilation of 10 short stories and 38 poems. It's a short book, at just 167 pages, and I finished it in one sitting. In the book's introduction he details the reasoning behind why he wrote it:
"To say things I want to say, and things I have no idea how to say. To bring myself more fully into the light and to be free. Because that's what writing is: Freedom. Despite being surrounded by cages and bricks, I can be free in this world, in the WORD, in any word. So stay awhile, enjoy the stories. Consider what I have to say, or don't. That is also freedom, and above all else, we desire to be free."
He got that part right. Writing is freedom. And so is reading. That is why prisoners read so much. Like Stephen King, Raby gets a lot of his story ideas from his dreams. (This is probably why I suck at writing fiction, I can't remember my dreams.) So if you're a fan of Stephen King or Patrick Rothfuss, you'll probably like Raby.
What I like about Fractured Minds is that after each story he gives a "note" explaining how he came up with it. He does this for the poems also. I wish more authors would do this with their fiction. As he says, "The best short stories make you think after you read them." His certainly made me think after I put his book down.
It's good to see another writer making his way in the publishing world. Welcome to the club, Anthony, we're proud to have you. Support the cause; buy a copy of his book! (You can always use his poems by sending them home to your family and pen pals -- that's what you do anyway. Just don't try to steal [read "sell"] them for profit.
Fiction, Short Stories, Sci-Fi, Horror & Poetry
Nine gripping, mind-blowing stories of the Dark and Grim. Raby contends, "To write is to escape to endless imagination, to play in worlds of your own devising, to be, in a word, free." That is exactly Anthony Raby's credo as he proves that even while serving time in a military prison, expression and creativity through fiction stories and poetry is not only therapeutic, but a great accomplishment. His stirring stories are both provocative and entertaining, stimulating the imagination and not easily forgotten. Not intending to be a poet, his poetry nevertheless gushes from his pen, rich with inspiration and honest expression within his heart and mind. He feels life and has the remarkable ability to bring it forth to others through his works. This cathartic volume is only the beginning of his promising career in literature.
$15 from Earth Star, Amazon or FreeBirdPublishers.com
BACK TO WHAT'S NEW
GO TO EARTH STAR'S HOME PAGE
This page updated December 7, 2021
STAR BEACON
SUBJECT INDEX
2013 2012 2011
2010 2009 2008
2007 2006 2005
2004 2003 2002
2001 2000 1999
1998 1997 1996
1995 1994 1993
1992 1991 1990
1989 1988
Back issues available for $2.00

CLICK HERE to receive FREE bimonthly enewsletter

Earth Star Books
Browse our Book Catalog to view all our books and publications.
Publishing Professional
Earth Star offers editing and production services for self-publishing authors, plus a lot more. You may inquire by contacting us at starbeacon@gmail.com
See all we offer in the way of publishing services. Check it out...
Psychic Readers Page
Our free directory lists intuitives ready to assist you... View Psychics Page...