Commander's Star Base:
Ask an ET
by Commander Sanni Ceto
© 2012 (all rights reserved)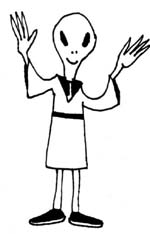 An article from the October 2012 issue of
THE STAR BEACON.
Q:
Beloved Commander,
A few years ago I had an experience with my roommate. It was a very intense and real dream experience that seemed to involve my roommate as well. I was taken outside to see cows in the front yard that had Erectro set bodies and real heads. They were in the front yard. My roommate was there with me. Next, I was sitting on my bed and there were three beautiful aliens, they were green just like a green olive was their skin, and they were so sweet and we looked at each other in complete agreement.
The next morning I found a note from my roommate that said she woke up with her head at the other end of the bed and was really confused. I had marks on my wrists and something seemed shoved up into my finger.
I have not heard of anyone else describing beings as this green color and loving presence and wondered if you have any information for me . In loving respect, Bonnie M.

A: Dear Bonnie,
The Erector cows were an experiment, testing machinery and biotechnology as the future will be robotic. ETs were the keepers of the new future. You were taken up on board a craft, which is why you had marks on you.
Love, Commander Sanni

Q: Hello,
I am from the Bahamas and would like to know when we gonna see the aliens? I know they exist... I saw two motherships in front of the moon, then they disappeared. I don't believe, I KNOW.



A: When the ETs deem it necessary, they will show themselves. Love, Commander Sanni
Special Announcement!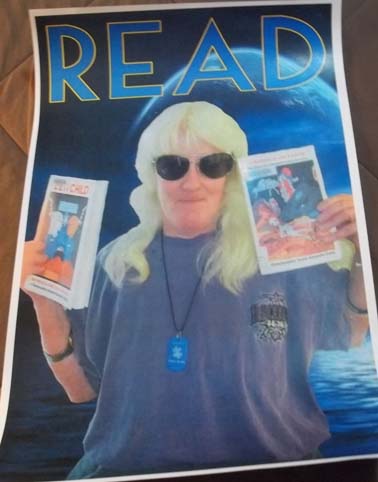 Commander Sanni's books, STRANDED ON EARTH and ZETI CHILD
have been archived in the Roswell UFO Museum.
Special thanks to Mara & David Edwards for their help with this accomplishment!
Commander Sanni Ceto's two books, Stranded On Earth and Zeti Child, are available through Amazon.com or follow the link at www.earthstarpublications.com/Stranded.html.
Stranded On Earth and Zeti Child are both now in ebook format at Amazon Kindle (for just $6.95).


If you have a question for Commander Sanni Ceto, please e-mail it to UFOeditor@yahoo.com and put "Ask ET" in the subject line. The Commander is happy to answer any and all questions.
BACK TO WHAT'S NEW
GO TO EARTH STAR'S HOME PAGE
This page updated October 17, 2012
STAR BEACON
SUBJECT INDEX
2012 2011 2010
2009 2008 2007
2006 2005 2004
2003 2002 2001
2000 1999 1998
1997 1996 1995
1994 1993 1992
1991 1990 1989
1988
Back issues available for $2.00

CLICK HERE to receive FREE monthly newsletter

Earth Star Books
Browse our Book Catalog to view all our books and publications.
We also sell T-shirts and Cosmic business cards!
SIGN UP for Star Beacon monthly updates!


Click to join starbeacon
Publishing Professional
Earth Star offers editing and production services for self-publishing authors, plus a lot more. You may inquire by contacting us at starbeacon@gmail.com
See all we offer in the way of publishing services. Check it out...
Psychic Readers Page
Our free directory lists intuitives ready to assist you.. View Psychics Page...