Commander's Star Base:
Ask an ET
by Commander Sanni Ceto
© 2013 (all rights reserved)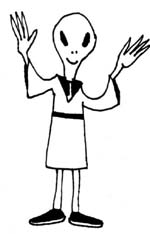 An article from the June 2013 issue of
THE STAR BEACON.
Q:
Hello, Commander,
I would just like to say I'm so sorry for what you have endured here on Earth. It's a pretty harsh place to be sometimes. I don't know my own origins, but have never felt at one on Earth. I am awake, though, and have been for a while now and have been putting lots of things together. Earth has so many problems. There is so much talk of contact with ETs. Are we going to be contacted soon? I mean on a mass level? Please take care. You are so lovely.
Much love and blessings, Sonia

A: Dear Sonia,
Open contact isn't a possibility currently, due to how the people on Earth are still war-like and greedy, destroying the ecosystem by pollution and not living in harmony with the natural world. When humanity wakes up and learns to treat Earth as a sentient, living entity, and ends wars and discrimination, maybe open contact will occur.

Love, Commander Sanni


Special Announcement!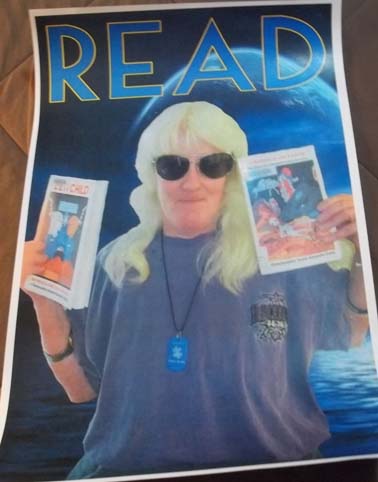 Commander Sanni's books, STRANDED ON EARTH and ZETI CHILD
have been archived in the Roswell UFO Museum.
Special thanks to Mara & David Edwards for their help with this accomplishment!
Commander Sanni Ceto's two books, Stranded On Earth and Zeti Child, are available through Amazon.com or follow the link at www.earthstarpublications.com/Stranded.html.
Stranded On Earth and Zeti Child are both now in ebook format at Amazon Kindle (for just $6.95).


If you have a question for Commander Sanni Ceto, please e-mail it to UFOeditor@yahoo.com and put "Ask ET" in the subject line. The Commander is happy to answer any and all questions.
BACK TO WHAT'S NEW
GO TO EARTH STAR'S HOME PAGE
This page updated May 30, 2013
STAR BEACON
SUBJECT INDEX
2012 2011 2010
2009 2008 2007
2006 2005 2004
2003 2002 2001
2000 1999 1998
1997 1996 1995
1994 1993 1992
1991 1990 1989
1988
Back issues available for $2.00

CLICK HERE to receive FREE monthly newsletter

Earth Star Books
Browse our Book Catalog to view all our books and publications.
We also sell T-shirts and Cosmic business cards!
SIGN UP for Star Beacon monthly updates!


Click to join starbeacon
Publishing Professional
Earth Star offers editing and production services for self-publishing authors, plus a lot more. You may inquire by contacting us at starbeacon@gmail.com
See all we offer in the way of publishing services. Check it out...
Psychic Readers Page
Our free directory lists intuitives ready to assist you.. View Psychics Page...