The Meaning of It All
by ANN ULRICH MILLER
© 2019 (all rights reserved)
An article from the June 2019 issue of THE STAR BEACON.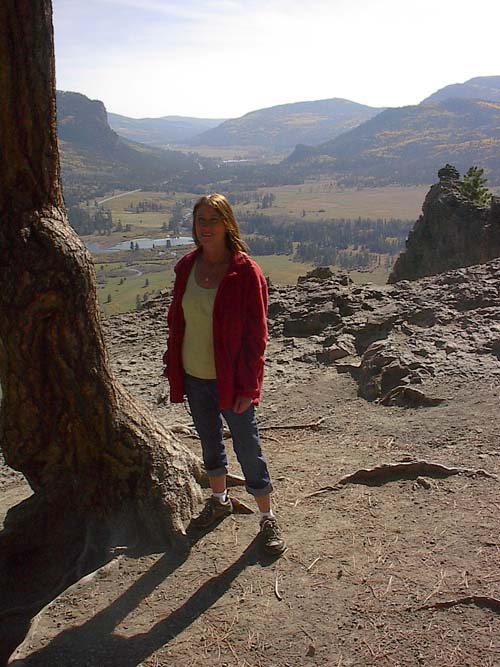 Photo by Doug Elmore
HOW DID EARTH STAR GET STARTED, ANYWAY?
P

erhaps some of you may be wondering how The Star Beacon came into being. In 1984 I was inspired after attending my first UFO conference at the University of Wyoming in Laramie, put on by Dr. R. Leo Sprinkle. I attended the conference that July with two friends, Jackie Blue and Jim Middleton, both of whom I have lost contact with. We had a profound cosmic experience at the Pat McGuire ranch (located 30 miles north of Laramie) the last night of the conference.

Jim was actually the one who came up with the name "Earth Star." He possibly designed its logo as I don't recall drawing it myself. The idea of starting some kind of New Age light center was on my mind the following three years, when I was pretty busy being a working wife and mother of two boys, soon to have a third.

Jackie was already an associate director of Dan and Aileen Edwards' UFO Contact Center International, and I eventually agreed to become an A.D. myself and felt led to gather locals in Delta County, Colo. to come together for meetings to discuss UFOs and similar topics. Earth Star New Age Center was the first name given to my group, but it morphed into Earth Star Publications in 1987, when I applied for a sales tax license and published the first book, Julian Joyce's Thought.

On April 9, 1987, I wrote in my journal that I was starting The Star Beacon, a newsletter to send to people I'd met through the UFO Contact Center. I felt directed to start a newsletter to help those who were interested in the subject, but hesitated to talk about it. There were very few such publications in existence in the mid to late '80s.

The first issue that went out was two sides of a legal size piece of paper. Somehow people liked it and some sent me money to continue it. I had help from Julian Joyce, who was somewhat of an authority on UFOs and metaphysical subjects, as well as writings from Lucille McNames ("Sari"), Fred Pulver, and many people too numerous to name.

When Dr. Sprinkle kindly sent me an address list of people who attended his conference, I sent sample issues to them all, and my subscribership took off, enabling me to increase the newsletter to four, then to eight pages, and eventually 12 and 16.

In the early 2000s, I changed the size from 8.5"x11" to a smaller size with color added. By that time, there were many more metaphysically oriented newsletters, in addition to full-blown magazines geared toward UFOs and related subjects. My subscriber base was probably the largest in that decade, before the Internet took control and people started moving away from reading print.

In early September 1987 Earth Star Publications became a bona fide publishing company with the state of Colorado, and one year later my novel, Intimate Abduction, became the first work of fiction published. I had no idea it would turn out to be the start of a Space Trilogy. The book was favorably reviewed by Omni Magazine, and for a short time I corresponded with an editor who encouraged me to turn the book into a screenplay. Although I started the work, I never finished it.

Looking back, it's amazing to me that after 32 years TSB is still in print. Unfortunately, the number of subscribers has fallen, but there are enough of you out there to prompt me to keep it going. It has become a "labor of love." I still have archive copies of each issue, stored in a safe place, but have had to quit selling back issues because of time constraints.

Will I ever retire and give it up? Probably not. It's so ingrained in my life that when the middle of each month passes, I say to myself, "Okay, it's time to gear up to do the next Star Beacon," or ... "The end of the month is coming again, it's time to put out another issue of Wisp."

Wisp, which was started in the fall of 2014, when Doug and I were living in Forks, Wash., came about because I needed something more to do, and I purposely created the smaller newsletter to be fun, with humor, helpful tips and subjects of a lighter flavor, such as health and cooking and animal stories. It's just fun to do it. But Star Beacon is my baby, and I'll most likely never quit publishing it as long as there are people like you who read it.

I want to thank all of you for supporting me in this endeavor. You are the true purpose for TSB, and I am grateful to you all.

n

Get Ann Ulrich Miller's latest romantic suspense thriller, The Dream Chasers ($15).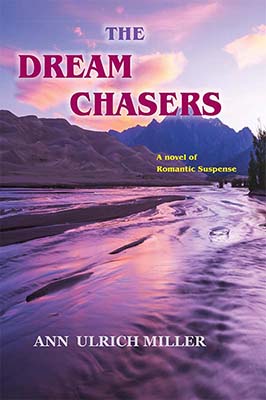 The Dream Chasers, is available on Amazon in paperback ($15) or as an ebook from Amazon Kindle ($5.99). The audiobook version will be available soon.
Ann Ulrich Miller is publisher of The Star Beacon and Wisp, and has authored 19 books. Check them out at www.annulrichmiller.com
BACK TO WHAT'S NEW
GO TO EARTH STAR'S HOME PAGE
This page updated April 4, 2019
STAR BEACON
SUBJECT INDEX
2016 2015 2014
2013 2012 2011
2010 2009 2008
2007 2006 2005
2004 2003 2002
2001 2000 1999
1998 1997 1996
1995 1994 1993
1992 1991 1990
1989 1988 1987

CLICK HERE to receive FREE monthly newsletter

Earth Star Books
Browse our Book Catalog to view all our books and publications.
Publishing Professional
Earth Star offers editing and production services for self-publishing authors, plus a lot more. You may inquire by contacting us at starbeacon@gmail.com
See all we offer in the way of publishing services. Check it out...
Psychic Readers Page
Our free directory lists intuitives ready to assist you.. View Psychics Page...