The Meaning of It All
by ANN ULRICH MILLER
© 2019 (all rights reserved)
An article from the October 2019 issue of THE STAR BEACON.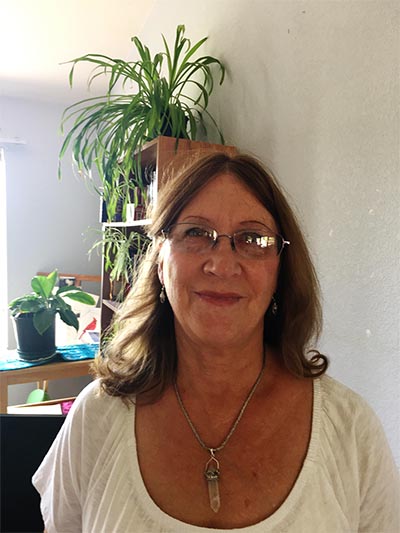 Photo by Doug Elmore
UNEXPLAINED EVENTS
Earlier this year I started going through the many years of my journal entries. While typing them into the computer, sometimes I'll come across something startling. Some events have drifted out of my memory, but come back into focus with vivid recall.
Thirty years ago, I had a few interesting events I thought I'd share. The following took place in the middle of August 1989:
Thursday, August 10, 1989
I had a strange vision as I lay in a half-awake state early Sunday morning, August 6, in a motel room in Albuquerque. I had trouble sleeping all night long due to noises from people above our room. It was around 5 AM and I saw this dream-like scene or memory:
A small boy (or girl — it was hard to tell by appearance) — about 3 or 4 (possibly 5 or 6) years old came running up to me. He or she had a huge head and no hair. The eyes were blueish-green in color and very human appearing, yet some of the facial features were not human. A smaller-than-normal nose and ears, and a mouth appeared out of the ordinary. He or she had the saddest look as he ran up to me and threw his arms around my legs. He asked me in a voice that may have only been heard in my head: "Don't you remember me?"
At that point I responded and crouched down to hug this child, and I said, "Of course I remember you," and I was filled with compassion and love as the realization came to me that this was indeed a child of mine. I was on board a ship of some kind, upon which this little half-human person was being raised and craved his or her mother's love so desperately.
I will never forget that pitiful look and how startled I was when I first saw the child.
I remember nothing more.
This next major event came at a turning point in my life. I recorded it in my diary the night of Sept. 1, 1989, and also wrote a letter about it to my sister in Wisconsin:
Dear Alice,
I've got to tell you that I had an amazing UFO sighting last Friday night. It was spectacular and incredible! I still can't believe that I actually saw one that big or that close. Of course, you will read about it in the Beacon, but I haven't told too many people about it so far. I'm afraid they might have the same reaction Jeff had ... that I was hallucinating ... which is the most ridiculous thing I've ever heard.
Scotty and I were driving home late at night from Paonia to Delta on Highway 92. Because of the Labor Day holiday, the Shopper did production on Friday, and I always work late on production days. Well, it was probably just 10:00 PM. I don't know for certain the time because when I glanced at my watch, it had changed to 'lap time' and wouldn't go back to normal time (annoying!).
Anyway, I was driving west and the sky was clear and filled with stars. It was the night of the new moon. My mind was preoccupied with something else, which I will explain a little about later, when all of a sudden I looked up and saw three bright white lights in the sky ahead of me. They were lined up horizontally and moving slowly to the north (to the right). I was surprised and didn't know what it was. When it hit me what it was, I cried out in excitement.
There just happened to be a turnoff to the right, so I immediately pulled over and stopped the car and rolled my window down. The thing or things, whatever, kept moving slowly westward toward the Grand Mesa. It was HUGE! It was either three UFOs flying in perfect formation or one large, very thin mother ship! All I could see were the three lights, and at a couple of instances, some of the lights shifted closer to and away from each other, but they always remained on the horizontal row. It was so huge, I couldn't believe it!

Up to this point the UFOs I've seen have been distant and rather vague. This was something incredibly close and large! I watched for about 1-1/2 or 2 minutes, and then the UFO dipped behind a mountain or hill. Scotty was asleep in the backseat and didn't wake up, despite my cries of excitement. At one point I tried flashing my headlights three times in a row, to see if I could get a reaction, but there was none.
I raced home and called the sheriff's office to find out if anyone had reported seeing what I had. The dispatcher took my name and number, but so far there hadn't been any other reports and I haven't learned if there has been any more. It was just so remarkable, so awesome. I never had a trickle of fear in me either. It just impressed me to no end!
In my diary I had added:
"The on the rest of the way home I kept thanking God for this sighting. For so long I've wanted to see a UFO that's more than the usual questionable satellite-type lights in the sky.
"Also, I felt it was some kind of sign that I saw it, following an extremely volatile, emotional week in which I have been in turmoil. It was like someone (a guide or space brother, perhaps?) was saying, "We know you've had a rough time, but you did great and here is your reward."
If you've read my memoir, Throughout All Time (published in 2009), you may recall that this was the sighting that occurred on that moonless significant night that my life was transformed. I had been publishing The Star Beacon for more than two years then, and was heavily involved with the UFO Contact Center International, founded by Dan and Aileen Edwards.
Along with holding meetings and sharing UFO stories, experiences and metaphysical subjects with local people, I had three young sons, a household to run, and a part-time job in which I had to commute 60 miles a day. Three decades ago, interest in UFOs and New Age topics was mushrooming and it was an exciting time to be an associate director.
It was also a time in my life where I had too much on my plate, which included a husband who was a skeptic. I would soon find myself in crisis mode because of the destiny before me.
The vision I'd had earlier that month in the motel in Albuquerque was puzzling. It was one of those rare experiences because I've never been prone to being psychic, though I believe that vision was genuine. I was not asleep or dreaming. But I was in a strange place with my boys. My then-husband was away on a forest fire and I had driven from Colorado to pick up our oldest son, who had spent part of the summer with my in-laws.
Who knows? Is it possible ETs could be harvesting human eggs and producing hybrid offspring? This child in my vision manifested deep emotions that prompted me to feel an amazing connection to him or her. I felt like crying. I do not recall ever having that kind of vision before.
All I can say is, it should be pretty interesting from this point on as I type more of my journal entries from the end of 1989 forward. Why? Because the next decade was one of the most profound ones of my life and included many paranormal experiences and sightings.
I'll keep you posted. n
Ann Ulrich Miller, Star Beacon publisher, is editor of The Star Beacon and Wisp, TSB's sister publication.
Get Ann Ulrich Miller's latest romantic suspense thriller, The Dream Chasers ($15).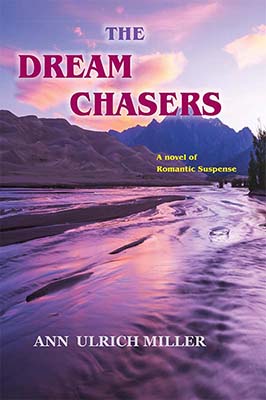 The Dream Chasers, is available on Amazon in paperback ($15) or as an ebook from Amazon Kindle ($5.99). The audiobook version will be available soon.
Ann Ulrich Miller is publisher of The Star Beacon and Wisp, and has authored 19 books. Check them out at www.annulrichmiller.com
BACK TO WHAT'S NEW
GO TO EARTH STAR'S HOME PAGE
This page updated October 2, 2019
STAR BEACON
SUBJECT INDEX
2016 2015 2014
2013 2012 2011
2010 2009 2008
2007 2006 2005
2004 2003 2002
2001 2000 1999
1998 1997 1996
1995 1994 1993
1992 1991 1990
1989 1988 1987

CLICK HERE to receive FREE monthly newsletter

Earth Star Books
Browse our Book Catalog to view all our books and publications.
Publishing Professional
Earth Star offers editing and production services for self-publishing authors, plus a lot more. You may inquire by contacting us at starbeacon@gmail.com
See all we offer in the way of publishing services. Check it out...
Psychic Readers Page
Our free directory lists intuitives ready to assist you.. View Psychics Page...