The Meaning of It All
by ANN ULRICH MILLER
© 2021 (all rights reserved)
An article from the June 2021 issue of THE STAR BEACON.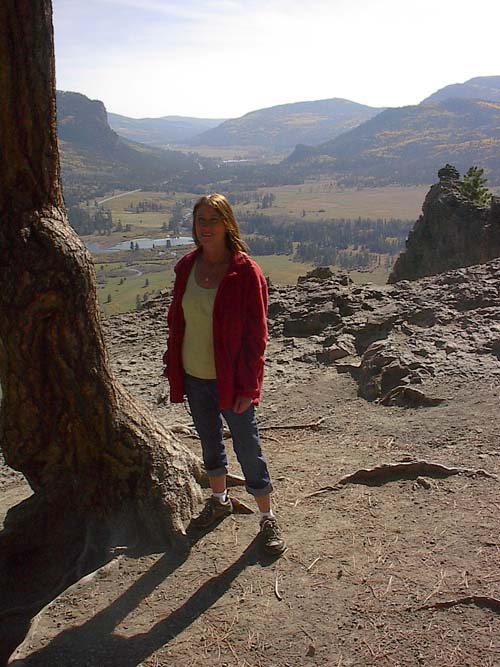 Photo by Doug Elmore
Watching... and Waiting...
Sometimes we wonder why does it take so long for things to change or to get better? Probably like you, I've been paying attention to this messed-up planet for months and studied lots of different points of view. There is no question that we are now in the predicted "End Times," and that the Shift is imminent. There has been too much suffering, too many conflicting timelines, and far too many predictions made to dismiss it as a conspiracy.

How much of it is truth, and how much of it is deception on the part of the dark side? When will we know that we have entered into the long-predicted Golden Age? Is this really the time for liberation, for horrible non-truths to be exposed and the path to enlightenment opened?

As I sat down to write my column, the words of J. Hayward and R. Thomas of The Moody Blues filtered into my mind: Watching and waiting, for a friend to play with. Why have I been alone so long?

I once read that this song was about our Moon. As a matter of fact, the album is titled "To Our Children's Children's Children," and it is probably my favorite of the Moody Blues albums that I have. The songs in it have to do with the NASA trips to the Moon in the late '60s. The Moody Blues records were popular throughout the '70s and '80s. Their songs usually affected me deeply and kindled the fire that ignited my spirituality.

Looking back at that simpler time (although in many ways it was chaotic too), it seems that we now live in a world that has speeded up so much that none of us can keep up anymore. Constant bombardment of information, most of which is slanted and intended to manipulate our thinking in one way or another, overloads our brains.

Instant gratification has made us into impatient beings who want everything now. There never seems to be a dull moment, and taking time to relax and soak it all in is a rare occurrence, which makes it even more important for each of us to take some time away from the rat race and meditate or at least relax and absorb the beauty that is still around us.

Mole he is burrowing, his way to the sunlight. He knows there's someone there so strong. This verse makes me think of human beings who strive all their lives to reach enlightenment because we know that what or whom we find is going to be well worth the struggle ... and the wait.

It appears at this present time that there are forces that want to control us and make us behave in ways that go against our nature. I used to believe that people who harped about the cabal and the deep state were paranoiacs, either to be ignored or laughed at. But I'm seeing more evidence of the existence of a dark side that appears to be winning this battle over those of us who are of The Light.

Soon you will see me, 'cos I'll be all around you. But where I come from I can't tell.

My inner guidance continues to reassure me that all is well, that the battle has already been won, and we are just playing out the ending, just as we know how a movie we've already seen is going to end. There is nothing to fear. The movie will end and when we leave the theater, we'll be greeted once again by the golden sunshine of the outdoors and the reassurance that our lives will once again be peaceful and full of opportunities for our spiritual growth and sharing of love with all on Earth and beyond.

'Cos here there's lots of room for doing the things you've always been denied.

The Golden Age is ahead of us. We are not doomed. I'm hanging on as long as I can and hoping to greet the dawn of the Golden Age.

When you're feeling a little bit down ... or scared ... just remember, we are not alone. We have never been alone. And the Space people? They've got our backs.

Ann Ulrich Miller,

publisher of The Star Beacon, is a novelist and writer of memoirs, romantic suspense and Young Adult mysteries. She recently retired from her day job and plans to do more writing and audiobooks, as well as help others publish their books. Check out her Author website at AnnUlrichMiller.com and be sure
to visit Earth Star Publications' on-line catalog
at www.earthstarpublications.com.

NEWEST RELEASE

Prom Night (#8 in the Annette Vetter Adventure Series)

by Ann Carol Ulrich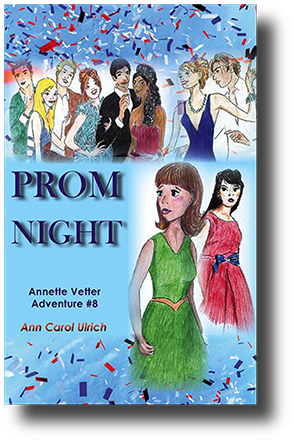 $9.95

from Earth Star or Amazon.com (Kindle $4.99)

Annette wonders why it's taking so long for Tim to ask her to the prom. All of her friends are going, and now ... the new boy in her art class has been flirting with her and has asked her to prom. Even though she told him she'd "think about it," still waiting on Tim ... Tony Petrosky spreads the rumor all over Ravensville High School that Annette is going to prom with HIM! Then, when Tim hears about it ...

Meanwhile, a homeless man has been seen camping in the Vetters' woods, and Annette has noticed a blue sedan with two men in suits who appear to have the property under surveillance. When Ruby's father, Bob, a recently returned Air Force veteran, hears about it, he's overly concerned.

Tim finally gets around to asking Annette to prom, but then Detective Brennan from the R.P.D. intercedes and suggests the two of them participate in a sting operation at the school. Prom Night turns out to be another exciting adventure for the students at Ravensville High School, and a surprise awaits Annette when Tim takes her home after the dance.

ORDER YOUR COPY

by Ann Ulrich Miller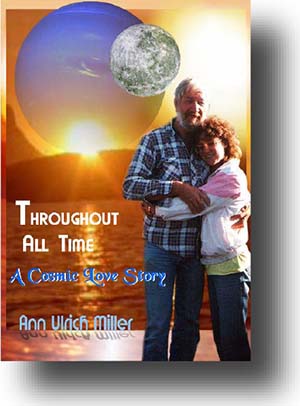 Published in May 2009, 320 pages, 6"x9"
ISBN 978-0944851-29-6 (orig. $17)
Ann Ulrich Miller, Star Beacon publisher, is editor of The Star Beacon and Wisp, TSB's sister publication.
Get Ann Ulrich Miller's latest romantic suspense thriller, The Dream Chasers ($15).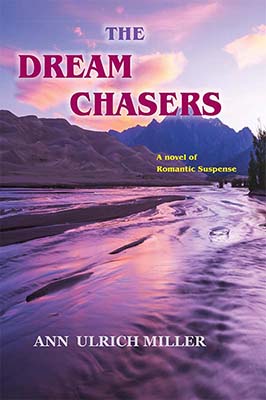 The Dream Chasers, is available on Amazon in paperback ($15) or as an ebook from Amazon Kindle ($5.99). The audiobook version will be available soon.
Ann Ulrich Miller is publisher of The Star Beacon and Wisp, and has authored 19 books. Check them out at www.annulrichmiller.com
BACK TO WHAT'S NEW
GO TO EARTH STAR'S HOME PAGE
This page updated May 28, 2021
STAR BEACON
SUBJECT INDEX
2016 2015 2014
2013 2012 2011
2010 2009 2008
2007 2006 2005
2004 2003 2002
2001 2000 1999
1998 1997 1996
1995 1994 1993
1992 1991 1990
1989 1988 1987

CLICK HERE to receive FREE monthly newsletter

Earth Star Books
Browse our Book Catalog to view all our books and publications.
Publishing Professional
Earth Star offers editing and production services for self-publishing authors, plus a lot more. You may inquire by contacting us at starbeacon@gmail.com
See all we offer in the way of publishing services. Check it out...
Psychic Readers Page
Our free directory lists intuitives ready to assist you.. View Psychics Page...