The Meaning of It All
by ANN ULRICH MILLER
© 2021 (all rights reserved)
An article from the December 2021 issue of THE STAR BEACON.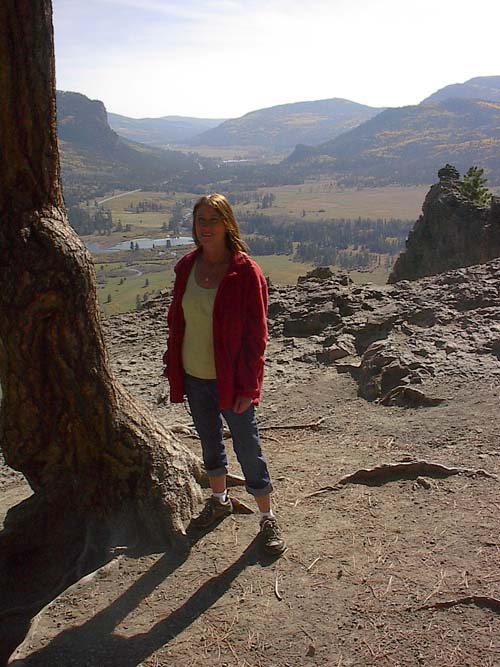 Photo by Doug Elmore
MAKE YOUR OWN REALITY
In this world in which we live "normal" has apparently moved out of the picture.

It wasn't that long ago when we were in the "good old days," which at the time may not have exactly been the best that we've known.

It seems that with time passing, in order to live well, we must make our own reality. The hurdles in life keep getting higher. Restrictions keep increasing, and authorities continue to make laws that restrict us from freedoms we used to enjoy.

You have a choice. Accept it and adhere to ever increasingly intrusive rules, or live according to what Spirit has decreed. Universal Law exceeds ridiculous, restrictive orders from people in government who think they know best and want to run your lives.

No, I am not a Libertarian, but they do seem to have a point. "Live and let live" appeals to me, and the Golden Rule ("Do unto others…") has always been my creed. "Be Kind," said the Dalai Lama, one of my favorite people in this world.

Looking back upon this past year (2021), most of us have experienced restrictions and imposed price increases on goods we need to survive, and it's easy to sit back and complain, as well as to blame those we despise. But when we adopt the attitude of making our own reality, that can change. It may not solve the problems of the world, but such an attitude can reverse your damaged psyche (thanks to all the lies and B.S.) and put you back on the path to finding the beautiful, wonderful things God bestowed upon us. An Attitude of Gratitude goes a long ways in helping you find this path.

In my last column (October 2021) I disclosed some of the challenges I've faced recently. My house had been up for sale and I had already spent a couple of grand moving my things across the street into my partner's home. One of my concerns had been fear of not being able to meet my monthly expenses for living, since earlier this year I had retired from my steady job. (Insecurity has been one of my weaknesses throughout life.) I had forgotten that we create our own reality.

Anyway, it was a good thing the first prospective buyer bailed. But even after that, my stubborn streak insisted that I must keep trying … never mind that I loved my house so much, especially after all the updates I had made.

After I contracted Covid in early October, I suffered for more than three weeks with that nasty virus, but as I recovered I began to realize perhaps I had made a mistake. I missed my house and the bright sunshine that comes in through all the windows. I missed the quiet and the backyard with my birds and the view of the mountains 30 miles away.

I began to dread turning it over to someone else just for money. It wasn't so bad living at Doug's, but I will admit we were a bit crowded. Most of my household goods were stashed in two garages and my office space was half what I am used to. It soon dawned on me, however, that I wanted more than anything to move back into my home and take it off the market.

After consulting with a good friend who sells real estate, who was kind enough to bring me over-the-counter medicines to help combat the Covid, I talked to her about my house. She suggested I talk to a reverse mortgage agent, and she handed me a card. A reverse mortgage is not a "death sentence," I found out! It just means you can sign an agreement to reverse your mortgage so that you no longer have to pay it and it allows older people to remain in their homes when their income has been diminished.

Doug and I soon realized we would probably have to remain in his crowded house a long time before we might find another home to buy that was affordable. I realized then that a reverse mortgage might be a good idea. So I called the number and everything fell into place like you wouldn't believe.

It felt like I was fighting every battle during the late summer, forcing something to happen that Spirit knew was not in my best interest -- nor Doug's for that matter. I now believe it was meant to be that my buyer backed out of the deal. When I came to the realization that I had control over my destiny and could take my home off the market and move back, it was like a flood of blessings rained upon me.

All three of my sons came together on a Sunday early in November, and worked together efficiently to move my things over. An angel of a lightworker friend had sent me the money needed to make the move. God bless her!

In the background of this tale, I don't want to forget to mention that a lot of us are growing very weary of all the negative stuff that's been happening over this past year. The agony has been dragging us along and wearing us down. I can't predict when things will change, but I do have hope in my heart that they will. But until then … don't let all that negative stuff affect you. If you're tired of it too, embrace the idea that you can make your own reality.

Now that I'm back in my house and relaxed and comfortable, my positive attitude has prompted me to want to celebrate the holidays. I'm in the mood for baking, for putting up my decorations, for writing notes with Christmas cards, for playing all my lovely Christmas music on my piano.

Even though horrible things are happening on the news, I refuse to let that be my reality. In the end, life is what we make it to be.

Postscript: I must comment on Diane Canfield's article on the Divine Creator Timeline. It came in after I'd written my column. When I read it, a flow of beautiful energy ran through my being in confirmation. Aha! Exactly what I was feeling the night of the 19th!

Now I understand perfectly why I have been filled with a satisfying bliss of knowing that my state of being (the Holy Spirit) right now is reflecting this new energy! What could be more exciting than -- after a very challenging year -- to experience this surge of bliss and reassurance, knowing we have broken through! Make sure you read Diane's commentary.

Ann Ulrich Miller's

Space Trilogy has been revised and is now available on Amazon in paperback as well as ebook. Intimate Abduction and Return To Terra are currently available. The Light Being will be out in mid-December.

Check out her Author website at AnnUlrichMiller.com and be sure
to visit Earth Star Publications' on-line catalog at www.earthstarpublications.com.

YOUNG ADULT RELEASE

Prom Night (#8 in the Annette Vetter Adventure Series)

by Ann Carol Ulrich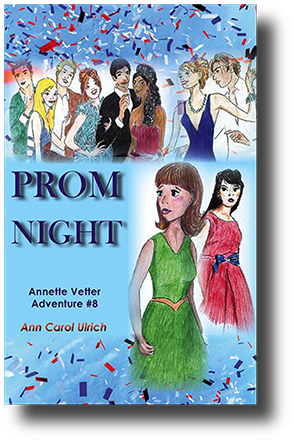 $9.95

from Earth Star or Amazon.com (Kindle $4.99)

Annette wonders why it's taking so long for Tim to ask her to the prom. All of her friends are going, and now ... the new boy in her art class has been flirting with her and has asked her to prom. Even though she told him she'd "think about it," still waiting on Tim ... Tony Petrosky spreads the rumor all over Ravensville High School that Annette is going to prom with HIM! Then, when Tim hears about it ...

Meanwhile, a homeless man has been seen camping in the Vetters' woods, and Annette has noticed a blue sedan with two men in suits who appear to have the property under surveillance. When Ruby's father, Bob, a recently returned Air Force veteran, hears about it, he's overly concerned.

Tim finally gets around to asking Annette to prom, but then Detective Brennan from the R.P.D. intercedes and suggests the two of them participate in a sting operation at the school. Prom Night turns out to be another exciting adventure for the students at Ravensville High School, and a surprise awaits Annette when Tim takes her home after the dance.

ORDER YOUR COPY

by Ann Ulrich Miller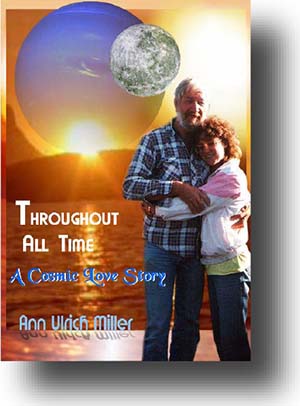 Published in May 2009, 320 pages, 6"x9"

ISBN 978-0944851-29-6 (orig. $17)

Ann Ulrich Miller,

Star Beacon publisher, is editor of The Star Beacon and Wisp, TSB's sister publication.

Get Ann Ulrich Miller's latest romantic suspense thriller, The Dream Chasers ($15).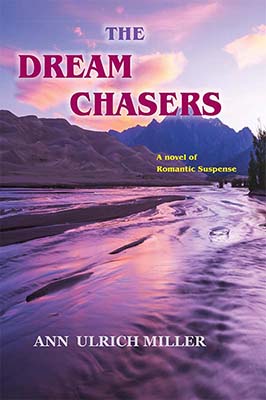 The Dream Chasers, is available on Amazon in paperback ($15) or as an ebook from Amazon Kindle ($5.99). The audiobook version will be available soon.
Ann Ulrich Miller is publisher of The Star Beacon and Wisp, and has authored 19 books. Check them out at www.annulrichmiller.com
BACK TO WHAT'S NEW
GO TO EARTH STAR'S HOME PAGE
This page updated December 6, 2021
STAR BEACON
SUBJECT INDEX
2016 2015 2014
2013 2012 2011
2010 2009 2008
2007 2006 2005
2004 2003 2002
2001 2000 1999
1998 1997 1996
1995 1994 1993
1992 1991 1990
1989 1988 1987

CLICK HERE to receive FREE monthly newsletter

Earth Star Books
Browse our Book Catalog to view all our books and publications.
Publishing Professional
Earth Star offers editing and production services for self-publishing authors, plus a lot more. You may inquire by contacting us at starbeacon@gmail.com
See all we offer in the way of publishing services. Check it out...
Psychic Readers Page
Our free directory lists intuitives ready to assist you.. View Psychics Page...